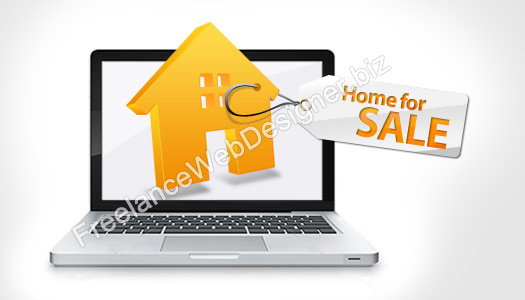 Real estate web design tips to make sure the business success!
Most of the Real estate businesses, today, are having their own website as an essential part of the business. While planning to build a house, we always consider a better foundation; just like that, a real estate business with its own uniquely designed website is considered a completed business. With the change in the real estate business world, most of the realtors are considering a better web design to ensure greater success and visibility to the people all over the world.
Top Keys to Creating the Best Real Estate Website Design for Your Business
Express Your Business with Your Real Estate Website
Nowadays, many web-designing companies offer web-designing services for real estate businesses. However, you should concentrate on developing such a website or template, which best expresses your business; no matter if it takes much time to complete the template by the designer/s. Your visitors' first impression will be based on the outlook and design of your real estate website; therefore, you must find out the best web-designing partner who can deliver outstanding web design for your real estate website.
Other than the basics, an exclusive web-designer can provide you with an innovative and creative website design that best expresses your business goals and your own personality. Running a real estate business needs closer relationship with the clients and to do so, the clients must have a better knowledge about your personality as well as your business objectives.
Let Your Web Contents be Live
Along with the graphics, quality of the website content is equally important as the visitors of your website are mostly because of these valuable contents. Quality contents are those, which only offer necessary information other than overwhelming the visitors. However, the contents must have the ability to satisfy both the search engine as well as the visitors; only then, it will fulfil the goal of your real estate website.
You should also remember to include a list of exclusive photos for the web pages of your real estate website- it will keep your visitors busy and stay on your site for longer period. You may also consider any video or audio or photos that best reflect your real estate business and its goals. It will help your visitors to develop a positive feeling about your real estate website. However, the photos of different real estate views should also have the features to satisfy the visitors.
Pricing Is Also Essential
The ultimate goal of your real estate website is to turn your visitors to a buyer- adding great pictures and other interesting items will surely increase your visitors but your pricing is the most important fact in this case. Potential buyers will search for such properties, which best match with their budget along with other necessary features. Therefore, as a crucial part of the real estate business, you must include the price for the property that you are going to offer.
Get In Touch With Great Real estate website design Sites.
Unlike the graphic designs and contents, the navigation, which is also very important, may have many difficulties. You must be concerned and ensure a clear path to the navigation of other pages from the landing page as contacting with you by your visitors means a lot to your real estate business. It is easy to check the navigation system, but we recommend you to set a great navigator to keep his/her sharp eyes on it.
Upgrading With Latest Technology and Information.
Real estate business has a changing nature as well as the technology of this present era takes different forms in different time. Therefore, you must be aware of the recent changes in the both worlds of real estate as well as technology to keep your website up-to-date. Consider taking the help of an expert web developer or designer to do this job for you. However, you must also consider sending conformation about the changes to the visitors of your real estate website through newsletters or blogs.
It is obvious that any real estate web designer with the knowledge of all the above-mentioned points is worth of being hired by you. It will ensure the best design for your real estate website. Though the real estate business is property related business, however, most of the people have a great appeal for such websites, which are well designed.