WordPress is not only for blogs anymore. If you're still under that impression, you better sit up and take notice because you don't want the modern world passing you by without knowing how HTML to wordpress conversion could take your business to a different level. There is a long list of benefits for those who make the switch.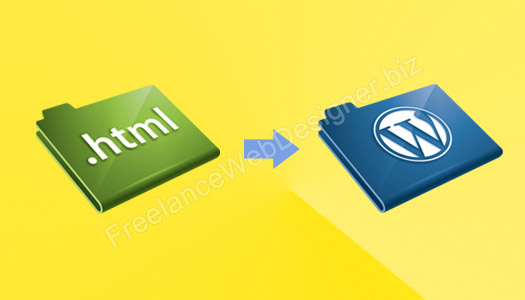 Rank High on Search Engines
Internet marketing agencies will be the first to tell you that converting an HTML site to wordpress is very useful. You should be able to design your page from start to finish working harmoniously with search engines. WordPress, by itself, is already SEO-friendly. But by making use of certain plugins when you convert HTML website to wordpress, you reap the most benefits from being SEO-optimized. Ranking high on search engines is what everyone is aiming for. After HTML to wordpress conversion is completed, the search engines will be able to gather data quickly and your pages will be able to get a higher rank. To put that in perspective, a website built using WordPress needs only half of the effort required by a typical HTML website to get to the same search engine rank.
It's More Convenient
When using WordPress, maintaining a website is a breeze via the administration section, which allows one to edit and add content easily. Its simplicity is the beauty of HTML to wordpress conversion. The process is easy whether you want to set up a newsletter, process payments efficiently, create a subscriber list, or put passwords on some files. Since converting an HTML site to wordpress is so easy, you can do it yourself and avoid the expense of hiring an SEO expert. It's also possible for you to get expert assistance on a consultancy basis. If you convert HTML website to wordpress, you can keep the appearance and feel of your website after migrating. If you have a grasp of the basic WordPress concepts, taking charge of your website will be within your reach.
Expand with Plugins
In converting an HTML site to wordpress, you can expand your website without the hassle. The plugins enable you to add functionalities. Optimize your website with the most advanced features, which include getting into social media and advertising. Not all websites have the same goals and purpose of course. This is why you can select only the plugins that you require. If you change your mind, making the adjustments can be done quickly.
Be More Flexible
Flexibility is one of the major advantages you get when converting an HTML site to wordpress. Aside from migration of your content, you can also update it easily and affordably. With minimum effort, you can get an optimized site that you can manage easily.
Make the decision to convert HTML website to wordpress and see your traffic increase and your viewership widen. It's very convenient to add content or edit your pages yourself when using WordPress. If you want to skip the annoyances of maintaining a website, this is the way to do it.