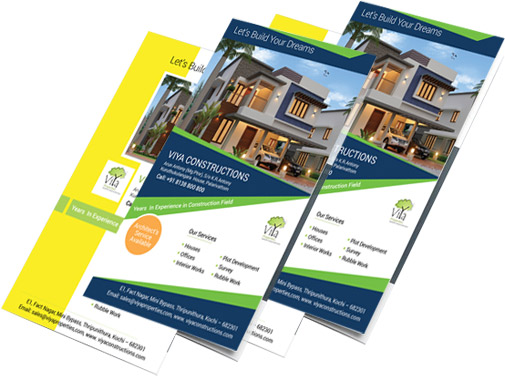 Brochure Design in Kochi, Kerala
Marketing and products and service promotion is a very essential role in today's market environment.
This is because the business environment is continually getting competitive day after the other. This calls for more effective and affordable marketing tools to help differentiate the several brands in the market. Brochure design has had a very effective role in marketing campaigns with great ability to deliver effective product information and business content. This has been done in effective designs that speak and impress the target customers and business prospects.
A freelance graphic designer has a great focus on helping businesses undertake effective marketing campaigns and market differentiation to survive the competition. This has been through quality and customized brochure designs. This is done uniquely to meet the clients' marketing needs. The brochure designer does this graphically offering professional solutions to the clients irrespective of the product offering, business size among other factors.
Freelance graphic designer brochure designs are a must item for your business success. These will work miracles for your business irrespective of the business size. A professionally done brochure design will have the capability to effectively sell the company products and services to the target customers. Therefore to effectiveness and such in accomplishing its role a brochure should be designed by a brochure designer who has great experience and expertise in the task.
It is worth doing it for the sake of your business growth. Therefore get in touch with the brochure designer and let him offer you the great brochure design that will say it all about your business.