Leadership is mostly over-estimated.
Leadership is over-estimated in the sense that people confuse it with consuming more time & effort of a person. Often, this mentality defeats leadership.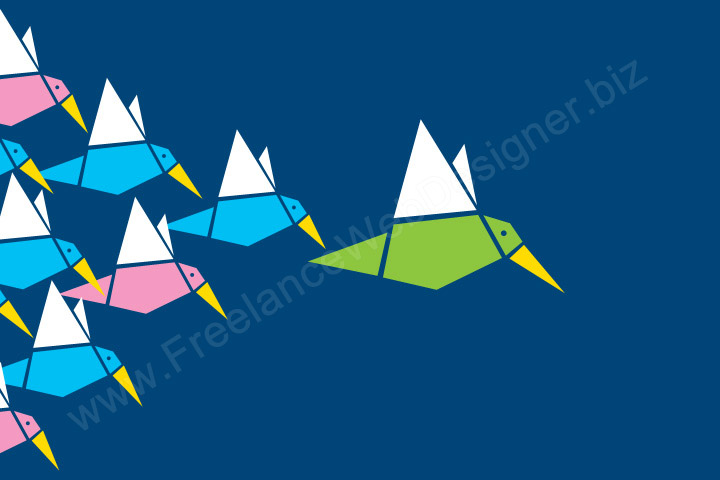 A thoughtful leader must know how to balance, aside from few other important aspects of lives, in order to become a person whom others would wish to follow. Being a leader in your freelancing industry is as easy as ensuring of incorporation of the 3 important elements in your regular life, as discussed below.
1. Education
In the industry of freelancing, generally, leaders are the people with experience, however, you cannot get much experience with lack of education. A college or university degree is certainly helpful, but you can also learn what you need in order to be successful from either online or a local bookstore. You ought to keep in mind that educated people can recognize uneducated people easily.
Read Books: Read such a book which contains the recent and updated information on marketing, social media, or programming. Consider your required goal for reading the book. What are you actually willing to learn? Once you realize your goal, read the book for one hour per day. Try to read a book per week. Most importantly, you have to put your learnt things to use as soon as possible.
Read Blogs: Read blogs that interest you. Skim the content. Consider the reason why it interests you. Certainly, it might have materials that entice you, but the exact reason why it stands out from other blogs containing similar information.
Read Magazines, Journals, & Papers: Journals, papers, and magazines of the freelancing industry are up-to-date, unlike books, which become obsolete very quickly in the "information age." Skim them. Be updated on the information in those resources. if you find information in those resources that you didn't know before, you might have just discovered gold!
 2. Communication
Once you are much educated and gathered some experience, you can begin opening up communication lines. You cannot lead if you cannot cast a vision, and you cannot cast a vision if you cannot communicate!
Create your Blog: The best way to beat others is by joining them. While working diligently at your very own blog, it would force you to step forwards of others in that very same area. What are others doing? How is it being done? What is the way of making it fresh? Take into account the various views of the similar concept. Innovate perspectives on old piece of information can even create sparks. The sparks eventually lead to a fire. And fires are notices, always.
Network, Network, and Network: As it says, 'great minds think alike'. Try to meet other such great minds that are similar to yours, and eventually you would be able to be popular. Get in the freelancing community by making contacts through networking. If you make one acquaintance today, it would lead to seven more, which eventually would lead to fifty more. Do not stay in your comfort zone, and go out and meet people!
Join Community: You would find several freelancing communities according to your choice. Some are formal institutions where they would train you and certify you through their programs, and others are simply contributors groups providing resources for one another. Be a voice in these communities, which would be a step closer to being in a position where you would be leading others.
3. Be Balanced
It is undoubtedly the most difficult part of a freelancer's life. We have all been there at least once – we become addicted to our work, and get carried away with it irrespective of time. The drawback of working day and night is that your life becomes imbalanced, leading to a lonesome and unsatisfactory life, which may interfere with your freelancing career eventually. Thus, you ought to make time for activities and events outside your freelancing world, and try to multitask if you feel you can.
Have a Life: It is difficult of maintaining a life outside the freelancing community & your regular job. Go out of your home or office once in a while, and make sure you meet people and attend different events. It would aid in enriching your life as well as making you a more content person and better leader.
Read Literature: Certainly, you would require reading the latest information of your industry, and ensure taking time off from the formal write-ups and have a little fun! You can read a novel for a while and get in a new world, or indulge yourself in learning something else – a new idea or perspective, and/or philosophies would only let you have a properly balanced life while working in the industry of your choice.
Use Time Astutely: Make your valuable time count. While traveling, jogging, or folding laundry, put on the audio series. You would get to kill 2 birds in a single stone. Try to multitask whenever you may and take advantage, but without compromising the quality of your work or life! You would become more organized, efficient, and step up the ladder of leadership.
The Author of this blog is a Freelance Web Designer living in Cochin. He is a great leader, and is currently leading more than one community. He is extremely popular among his communities as the 'Man with all answers'. He works hard, and tries his best to be the best leader possible.